UVA UVB Solarmeter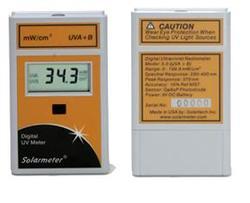 UVA UVB Solarmeter
Product Description
SOLAR METER 5
UV METER
Features:
Integral Sensor
Compact Durable
Accurate
LCD readout

Applications:
UV Lamp Aging Tests
Acrylic Shield Transmission
Eye wear UV Block Tests
Compare Browning Rays
Estimate Tt Time
10
Solar meter Specifications
Radiometer
Model
5.0
Irrad. Range
0-199.9 mW/cm2 Total UV
Response
280-400 nm (UVB thru UVA)
Resolution
0.1 mW/cm
Conv. Rate
3.0 Readings/Sec
Display
3.5 Digit LCD
Digit Size
0.4 inch high
Oper. Temp
32 F to 100 F
Oper. Humid.
5% to 80% RH
Accuracy
5% REF.NIST
Dimensions (in.)
4.2L x 2.4W x 0.9D (in.)
Weight
4.5 OZ. (incl. batt.)
Power Source
9-Volt DC Battery
Lens
UVT Acrylic .030
Diffuser
Virgin PTFE .010
Also Available - by special request:
CONTACT US by email for details.
Model 5.0 HP > 0-1999 mW/cm
(For high pressure lamps over 199.9 mW/cm)
Model 5.0 SF > 0-199.9 W/m
(For science fair projects)
Sensor
Hamamatsu #G5842 UV SENSOR/FILTER
The G5842 is a semiconductor UV sensor consisting of a GaAsP photodiode chip and a UV filter. The G5842 is completely insensitive to visible light longer than 400 nm and infrared radiation since its spectral response covers only the UV region from 260 to 400 nm. Applications of the G5842 include solar UV detection, as the spectral response is well matched to the solar UV spectrum, and tanning lamps peaking near 365 nm ("new era" fluorescent and "high pressure" HID).
Operation
Press and hold push-button switch on face of unit. Aim sensor window in top panel of meter directly at UV source. Note reading on LCD and record if desired.
Battery operation voltage is 9V down to 6.5V. Below 6.5V the LCD numbers will begin to dim, indicating the need for battery replacement. Under "typical" service load, the battery should last about 2 years.
Contact Us
No. 001, Priya Enclave, Beside E-Seva, Road No. 9, Snehapuri Colony, Nacharam, Hyderabad, Telangana, 500076, India
Phone :08035063233