Professional Vibration Meter Suppliers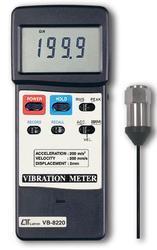 Professional Vibration Meter Suppliers
Product Description
Professional Vibration Meter Suppliers:
Applications for industrial vibration monitoring : All industrial machinery vibrates. The level of vibration is a useful guide to machine condition. Poor balance, misalignment & looseness of the structure will cause the vibration level increase, it is a sure sign that the maintenance is needed.
Separate vibration probe.
Frequency range 10 Hz - 1 kHz, sensitivity relative meet ISO 2954.
Professional vibration meter supply with vibration sensor, full set.
Velocity measuring range 200 mm/s.
Acceleration range 200 m/s .
RMS & Peak measurement.
Data hold.
Memory function to record max. and min. reading with recall.
Complete set with hard carrying case.