Lutron Mini Vane Anemometer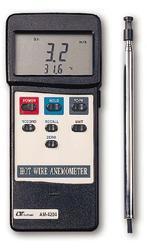 Lutron Mini Vane Anemometer
Product Description
Lutron Mini Vane Anemometer:
The model AM-4204 of LUTRON anemometer which is a modern device with a newer aspect of measuring heated air speed even if it is too slow. This model of the LUTRON anemometer has such technological advancements that it will allow us to get the measurements precisely and rapidly within a very short time.

Features
* Thermal anemometer, available for
very low air velocity measurement.
* Slim probe, ideal for grilles &
diffusers.
* Combination of hot wire and
standard thermistor, deliver rapid and
precise measurements even at low air
velocity value.
* Microprocessor circuit,
* m/s, km/h, ft/min, knots. mile/h.
* Heavy duty & compact housing case.
* Data hold, Memory ( Max. & Min. )
* Auto shut off saves battery life.
* RS 232 PC serial interface.
* Thermistor sensor for Temperature
measurement, fast response time.
* Applications : Environmental testing,
Air conveyors, Flow hoods, Clean
rooms, Air velocity, Air balancing,
Fans/motors/blowers, Furnace
velocity, Refrigerated case, Paint
spray booths.

Hot wire anemometer
Model : AM-4204
* 0.2 - 20.0 m/s, high precision for low
air velocity measurement,Telescope probe.
* m/s, ft/min, km/h, knots, mile/h,OC/OF.
* Max., Min., Data hold, RS232/USB interface.