Air Velocity And Temperature Sensor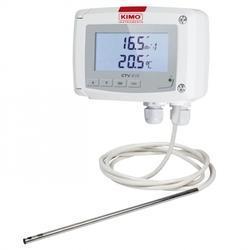 Air Velocity And Temperature Sensor
Product Description
Air Velocity And Temperature Sensor:
Our domain expertise has enabled us to come up with quality Air Velocity And Temperature Sensor. The products we offer are designed and engineered under the notable guidance of our diligent professionals. Furthermore, our products are timely delivered at clients disposal, with the assistance of wide distribution network.
CTV 210-R
Air velocity and temperature sensor
Kimos CTV 210-R is an air velocity transmitter. The measuring range when using a Hotwire is from 0 to 30 m/s and with an omni-directional probe the measuring range is from 0 to 5 m/s. It also measures temperature.
Salient Features :
Measuring ranges: hotwire: from 0 to 30 m/s and omni-directional probe: from 0 to 5 m/s
Temperature : 0 +50oC
With or without 2-line 19-digits LCD display
Two relays
0-5/10 V or 0/4-20 mA outputs
Adjustment certificate
Technical Data :


Temperature

Sensor

Min

Max

Pt100

0.00 C

50.00 C

Air velocity

Sensor

Min

Max

Air velocity

0.00 m/s

30.00 m/s
Technical details :


Parameters

Air velocity Temperature

Displays

No 2-line display

IP Protection

IP 65

Standards

2011/65/EU RoHS II
2012/19/EU WEEE
2014/30/EU EMC
2014/35/EU Low Voltage

Power supply

24 Vac/Vdc or 100-240 Vac

Outputs

2 x 4-20 mA or 2 x 0-20 mA or 2 x 0-5 V or 2 x 0-10 V (4 wires)

Relay

2 changeover relays 3 A / 230 V

Ethernet communication

No

Modbus network

No
Instrument Dimensions :

Length

Width

Height

Weight

125.00 mm

59.20 mm

115.00 mm

340.00 g

Operating temperature :

Min

Max

-10.00 C

50.00 oC

Storage temperature :

Min

Max

-10.00 oC

70.00 oC
Supplied with
1 ABS plate (expect ambiant model